Owner and Veterinarian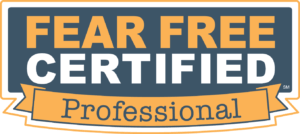 Dr. Noel Lucas grew up in a small rural town in northern Indiana. She graduated from Indiana University with a B.S. in Biochemistry and then went on to graduate second in her class from the Purdue School of Veterinary Medicine in 2000. While at Purdue, she specialized in small animal medicine and surgery.
Dr. Lucas moved to the Nashville area right out of vet school. She started the forward-thinking Blue Oasis Pet Hospital in 2013 and is proud to have become an AAHA (American Animal Hospital Association) Accredited Hospital in 2014 and a Fear Free Certified Hospital in 2018.
She has extensive experience and continued education in dentistry/oral surgery, emergency/critical care, pain management, and general day practice. She prides herself on having a bubbly personality and unwavering focus on what is best for the pet and pet parent.
Her goal is to provide a new perspective for pet owners on how a vet hospital can look and feel. From a soothing water fountain in the lobby, windows in the exam rooms, and no backroom that pets "disappear" to for treatments.
---