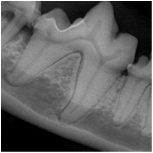 Intraoral radiographs, or teeth x-rays, are necessary for accurate evaluation of the entire tooth. Cleaning and polishing the teeth are not enough to ensure that the tooth is healthy. We need to look below the gum line to see the root and supporting tooth structures.
When you go to the dentist for a normal exam, a common practice is to take x-rays to evaluate every tooth. Now we are doing the same for our pets. Our goal is to ensure optimal health for your pet's mouth and body.
With digital dental x-ray, we are able to catch problems early before they cause your pet to lose teeth due to periodontal disease.
If you have any questions about our services, please contact us today at (615) 975-2583.